FOOD & BEVERAGES
Assam Laksa
|
Char Koay Teow
|
Nyonya Kuih & Dishes
|
Ais Tingkap
|
Teochew Chendol
|
Nasi Kandar
|
Curry Mee
|
Nasi Lemak
|
Mee Goreng
|
Penang Rojak
|
Chee Cheong Fun
|
Lok Lok
|
Hokkien Mee
|
Nasi Melayu
|
Pasembur
|
Koay Chiap
|
Tau Sar Pneah
|
Vegetarian Food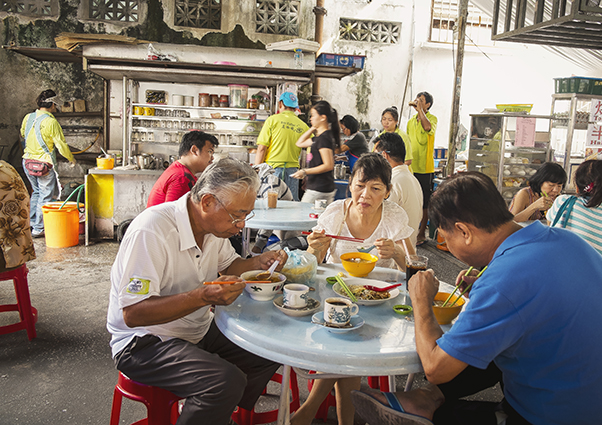 In Penang, your only culinary worry would be not having enough time to feast on all the city has to offer. Not only are Asia's major races all represented in Penang's cuisine, they are fused together in the forms that are truly unique to Penang like Nyonya and Jawi Peranakan cooking. Nyonya cuisine is a blend of Malay, Chinese and Thai influences that is well known especially around the region. The criminally overlooked gem is Jawi Peranakan food, a product of the Indian-Muslim, Straits-born community which combines Tamil, Pakistani, Persian and Malay cooking styles.
NASI KANDAR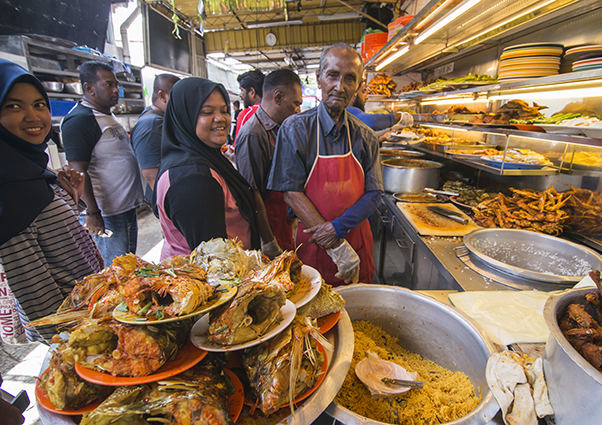 The Indians, whether of Muslim or Hindu faith, had given Penang its most famous and sought-after cuisine – the nasi kandar. People have been known to travel from all over just to score a plate of rice utterly drenched in at least two types of lively-flavoured curries accompanied by fried chicken, fish, mutton or seafood and a myriad of vegetables. What started as peddling rice and curries, hand-carried in pots to port workers in Penang, nasi kandar has certainly come a long way since then. It's no surprise since the Indians came from a land of spices from which they expertly grind into various curry pastes that produce robust and colourful curries and marinade.
Where to try: Hameediyah restaurant on Lebuh Campbell, Line Clear on Jalan Penang and Nasi Beratur on Jalan Masjid Kapitan Keling in George Town, as well as a couple of nasi kandar restaurants on Jalan Todak 4 in Seberang Perai.
PENANG ROJAK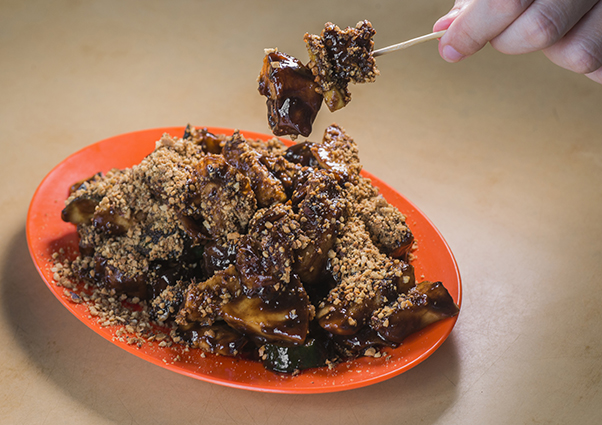 Penang Rojak can count as a healthy dessert option in Penang. Loaded with more than your 5-a-day fibre needs, Penang Rojak is made from a variety of fruits and vegetables topped with Penang's own creation of prawn paste sauce. You can also choose to have it spicy or non-spicy.
TEOCHEW CHENDOL
Don't worry about not finding the small lane where this famous Penang Teochew Cendol stall is located. Spot the long queue off Jalan Penang and you are at the right place. Cool yourself down after a walk round George Town with a bowl of Penang cendol, a local dessert with a coconut milk and gula Melaka (palm sugar) base, topped with red beans, pandan flavoured noodles and shaved ice.