STREET ART Wall Murals | Urban Exchange | Wire Sculptures |
Life in Penang is a rich blend of Malay, Chinese, Indian, Peranakan and European influences. Heritage isn't confined to museums and can be found thriving along the city's five-foot ways – thus providing a vibrant living celebration of George Town's UNESCO World Heritage status. You'll experience a spirit of authenticity and joy in its traditional festivals, stunning architecture, spontaneous street art and old-world charm.
Penang's quirky murals and street art have made international headlines. Around every street corner is a work of art waiting to be discovered!
HERITAGE ZONES Landmarks | Museums & Art Galleries | Traditional Trades | Peranakan | Free CAT Bus The George Town UNESCO World Heritage Site features Malaysia's best restored and re-adaptive traditional architecture as well as a multitude of heritage trades and arts.
The world-renowned 'Street of Harmony' reflects the influence of the diverse communities that have made Penang their home. At only 2.5sq km, the George Town World Heritage Site is compact enough to be explored on foot, bicycle or trishaw.
George Town's Outstanding Universal Values (OUVs)
According to UNESCO, the city represents an exceptional example of a multicultural trading town in Southeast Asia, forged from the mercantile and civilisation exchanges of Malay, Chinese, Indian and European influences.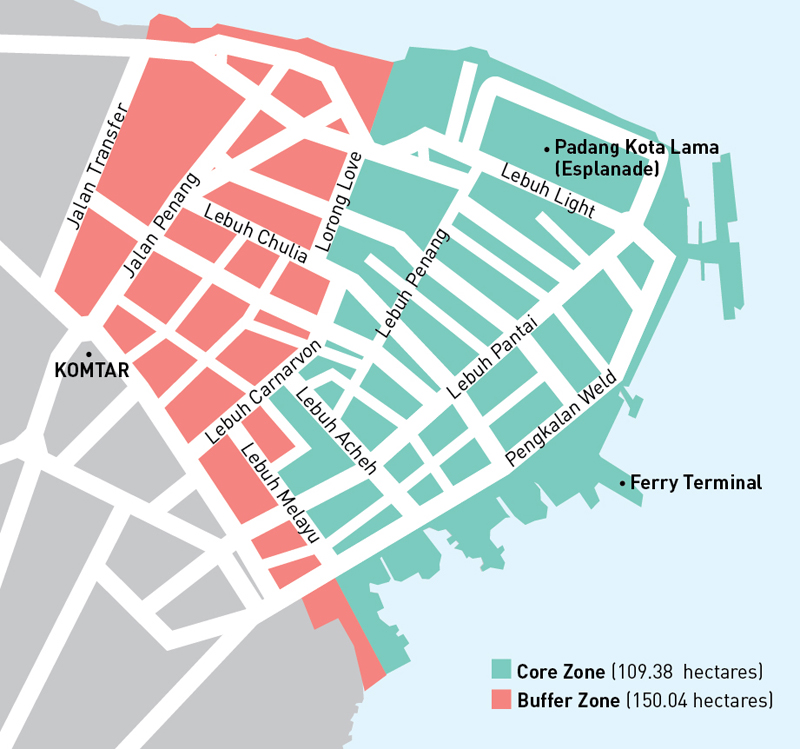 Core Zone (109.38 hectares)The Historic City of George Town covers an area of 109.38ha bounded by the Straits of Malacca on the north-eastern cape of Penang Island, Lorong Love (Love Lane) to the north-west and Gat Lebuh Melayu, Lorong Carnarvon and Lebuh Carnarvon to the south-west corner. There are more than 1,700 historic buildings within this Core Zone aligned on four main streets of Pengkalan Weld, Lebuh Pantai, Jalan Masjid Kapitan Keling and Lorong Love, as well as several perpendicular streets of Jalan Tun Syed Sheh Barakbah, Lebuh Light, Lebuh Bishop, Lebuh Gereja, Lebuh China, Lebuh Pasar, Lebuh Chulia, Lebuh Armenian and Lebuh Acheh.
Buffer Zone (150.04 hectares)
The Core Zone is protected by 150.04ha of Buffer Zone (not including sea buffer), bounded by a stretch of sea area around the harbour, Jalan Dr Lim Chwee Leong and Gat Jalan Prangin to the south-west corner and Jalan Transfer to the north-west corner.
PLACES OF WORSHIP
The island's history as a trading port for the British East India company brought in many workers and traders from all over the world. In addition to the major races – Chinese, Malay and Indian, there is also a sizeable community of Eurasian and Siamese communities in Penang. They brought along with them their respective beliefs and rituals.
The state has practised religious tolerance from then till now with its diverse places of worship, some of which are built very close to each other. The perfect example is Jalan Masjid Kapitan Keling, also known as the Street of Harmony where the Kapitan Keling Mosque, Goddess of Mercy Temple, St. George's Church and Sri Maha Mariamman Temple all sit within walking distance.